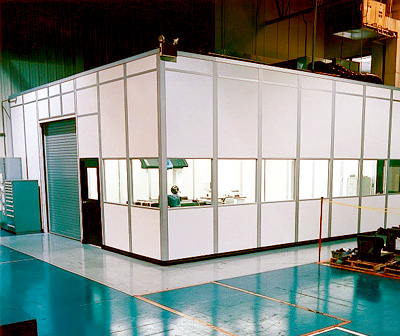 A CMM Machine Enclosure is an inexpensive option for CMM's whilst located on the shop floor. It helps protect the CMM from dirt, dust and other shop floor contaminates in what can be a difficult for any measuring system whilst located in the heart of the production environment.
With the option of air conditioning it can allow the CMM to operate a it's optimum temperature thus ensuring shop floor temperature gradients are eliminated.
The Enclosure is manufactured from aluminium extrusion made to form a lightweight, rigid construction. Side panels are made from clear or coloured plastic materials.
All CMM Machine Enclosures are custom built to individual customer size and design with full installation provided by our dedicated team of engineers.
Basic Construction
Front Bi-Fold doors, plastic or sliding doors to allow easy access for operators to load and unload parts
Side panels that can be easily removed for servicing and access to the CMM
LED Lighting or PIR Strip Lighting
Optional Air Conditioning
We can also provide enclosure units to house a number of CMM machines and equipment
CMM Enclosure Benefits
Maintain CMM operating temperature
Protection for shop floor CMM's
Ensure probes and styli free from dirt and dust
Reduction in maintenance downtime
Easy access for maintenance and engineers
Easy to install and re-locate as required
Clean Rooms & Aluminium Workstations We are also able to offer a full clean room facility along with special purpose workstations. Options include:-
Close control air conditioning
Data Networks
Crane and Work handling solutions
Specialist flooring
Security systems
For more information or details about the systems and options available, please get in touch through our Contact Us Page